INXS got the band back together this week, for a few hours at least, to celebrate the release of several, special new projects.
The surviving band members — Garry Gary Beers, Kirk Pengilly and brothers Andrew, Jon and Tim Farriss — gathered Tuesday (Oct. 17) at Sydney's Intercontinental Hotel, towering over Sydney Harbour and all its famous landmarks, for a rare reunion — their first since 2017.
The chaps were relaxed and chatty as they flicked through old photos, wound back the years.
Some of those memories are preserved in Calling All Nations, a new 400-plus "love letter" created by a global fanbase and the band. UMG's Andrew Kronfeld and Live Nation's Arthur Fogel contributed essays.
Until the project came together, the artists had "no idea how much it meant to so many individual fans. It wasn't always about the show," recounts Pengilly. Those tales include deeper, shared experiences of road trips "driving six hours to meet their friends to get ready to go to the gig. And then, you know, they might just somehow meet us backstage or have an interaction and a look from one of us on stage," and "they feel a connection. Yeah, I found it really emotional."
Bass player Beers, now based in California, relished the chance to meet his old bandmates on home soil. He offers a different glimpse at the life of a group on the rise, and their connection with fans. "Being broke and young back in the day, we used to take up offers to go to people's houses and eat their food. So, you got to meet a lot of people. When you look back at the book, you remember that we did matter to people, not just musically, or for successes. People helped us along in many ways."
A partnership of Petrol Records, UMe, uDiscover Music and This Day In Music Books, Calling All Nations is available via INXS.com in three configuration — the standard "First Edition" hardback book, a limited-edition "Deluxe" boxset, and an extremely limited-edition "Super Deluxe" box, hand-signed by the members of INXS.
Also on the release slate, All Juiced Up – Part 2, a collection of nine limited edition colored vinyl 12" records featuring remixes of classic INXS songs, including "Need You Tonight," "Listen Like Thieves" and "New Sensation," plus the 30th anniversary edition of Full Moon Dirty Hearts, for which Giles Martin has created an exclusive, immersive audio edition; it's due out Nov. 2.
The last time the surviving band members were in a room together, prior to this week, was for the celebration of their 40th anniversary, in 2017, when they were honored for 50 million global record sales at the State Theatre masquerade party.
Formed in Western Australia in 1977, INXS scaled the highest mountain of popular music with six U.K. top 10 albums (including a No. 1 with Welcome To Wherever You Are from 1992) and five U.S. top 20 albums, a BRIT Award (in 1991 for best international group) and, in 2001, elevation into the ARIA Hall of Fame.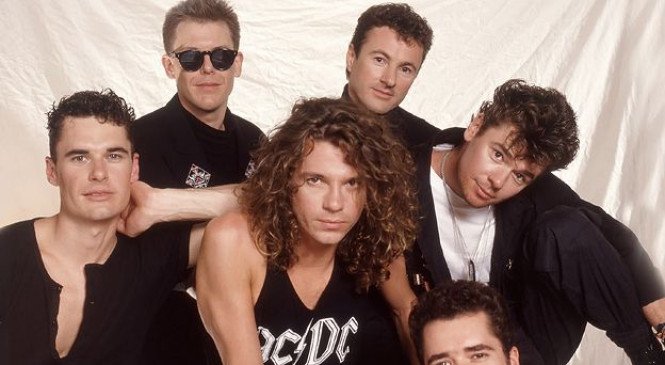 The band's journey was tragically derailed by the 1997 death of lead singer Michael Hutchence, at the age of just 37, though INXS continued with replacement singers.
In Sydney, talk turned to Hutchence, and "seventh member" Chris Murphy, who died in 2021, aged 66. "Chris was hungry," recounts Pengilly. "He just took no prisoners".
The question every fan, or reporter, would ask INXS is on a return to live performances. A tour, perhaps, or a one-off show at an iconic venue. The answer isn't a flat no.
Beers put his hand up ("I really miss playing with these guys"). Tim Farriss' fretting hand, however, isn't what it was following a grim injury to his left ring finger back in 2015. "We loved every bit of it," notes Pengilly of the band's journey. "But you know, we did it all."
INXS called time on touring in 2012, with a gig where it all started – in Perth.
"To be fair to us is that," comments Andrew Farriss, "as people losing someone as talented, dynamic a frontman as Michael, it became really in the forefront of our minds that, okay, we've created this legacy and we own it. And so we'll decide when we want to play or not. That's the important point, to not have it dictated to what we can and can't do when we feel like it."
The other side of the coin, "which is appealing to me," he adds, "is who that singer could possibly be. There must be someone that we haven't even thought of or discovered or found it. That could be an amazing thing to happen."
In a surprise for the band members, Universal Music Australia president Sean Warner presented INXS with global awards for four billion streams, featuring a powerful Indigenous "full moon" design. A sixth award was forged for the late Hutchence.