The way pop singer/songwriter Troye Sivan describes his new album Something to Give Each Other, it's really about "every sort of connection being beautiful in its own way, and of togetherness and community and joy."
On the new Billboard Pop Shop Podcast (listen to Sivan's interview, below), the musician and actor says that he wrote the just-released project "over a long period of time" and realized at one point that "the overarching themes of the last two-and-a-half-three years of my life are mostly really joyous themes."
Sonically, Sivan says the only intent with the new album was that he knew he was very "drawn to warmth." He says in the past, it's "sort of been like this melancholy warmth, and this time I didn't feel that way."
"I talk a lot about Janet Jackson," Sivan tells Pop Shop hosts Katie and Keith, "because she's so important to me, but I saw her show at the Hollywood Bowl really early on in the process. And, to me, it took me right back to when was I was like, however old I was, I was probably like 7… hearing 'Together Again' for the first time. And that melody and those chords and the warmth that's in that song literally changed the trajectory of my life. The trajectory of my life as a musician and as a songwriter, specifically. And that's something that I was really really striving for [on the new album]. I wanted something warm."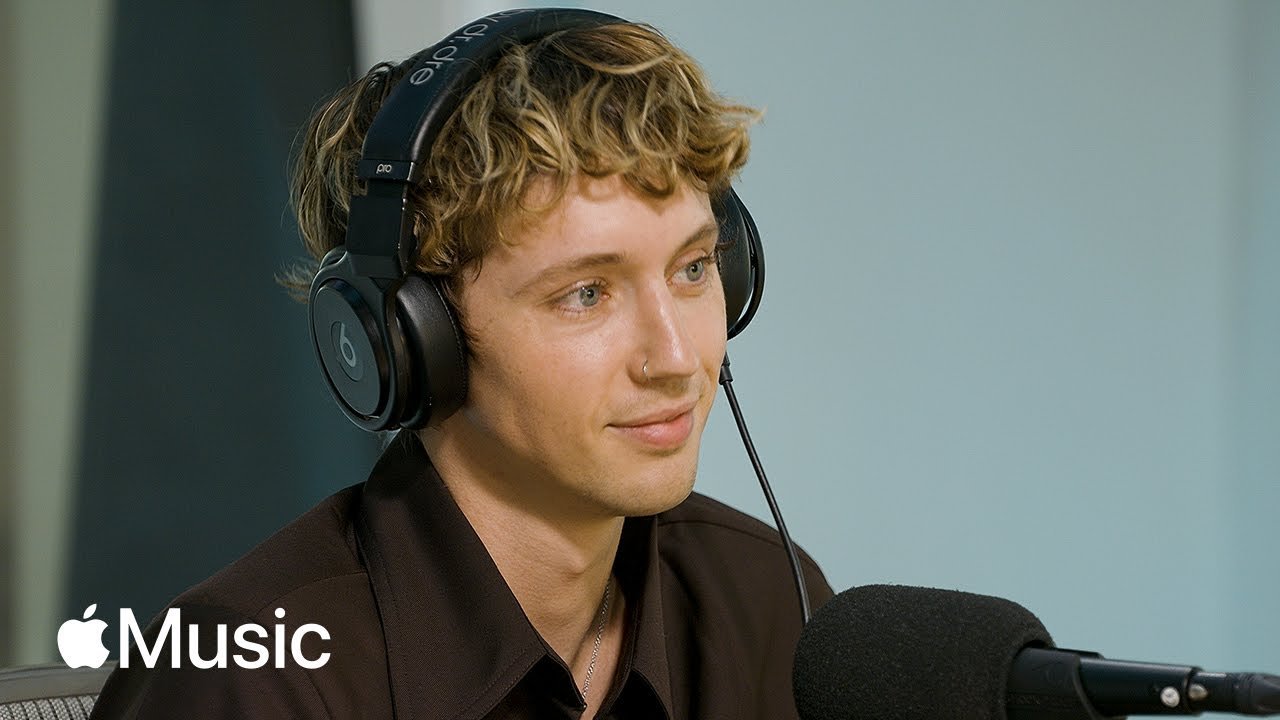 The album's lead single "Rush" brought the warmth – and the heat! – when it was released in July. It reached the top 40 on the Billboard Global 200 chart and hit the U.S. Billboard Hot 100. The "scorching" track was accompanied by an equally hot, dance-heavy music video, directed by Gordon von Steiner (who also "creative directed" the album) and lensed by cinematographer Stuart Winecoff (who also photographed Something's album cover).
But the video didn't necessarily come easy, Sivan says. "First things first, considering all of my references for a good pop star growing up, were those who made these mega mega mega videos where the budgets were very very different from what they are now. I had so many times, in so many meetings (where people said), like 'music videos don't matter, the music is dead,' and I pushed and pushed and pushed and I'm so grateful that we go to make the music video of my dreams for 'Rush' … It went wider than I think anything ever has of mine before, and that's really cool. I'm very grateful and thankful."
"Rush" was followed by two more buzzy singles and videos, both from the von Steiner and Winecoff teaming: "Got Me Started" (which features Sivan and his co-stars dancing through Bangkok) and "One of Your Girls" (in which Sivan is seen through a whole new light, alongside his main co-star, musician and actor Ross Lynch).
With Something to Give Each Other now out for fans to listen to, will Sivan bring that special Something on tour soon? Though he doesn't have a plan yet, he's thinking about it – and he's feeling the pressure. "I'm intimidated because … when this tour happens, I want it to be the tour of my life. I really do. And I want to give the big pop show that I think this album is asking for, and these visuals [his music videos] are asking for. And so it's a big job. … So, I'm gonna take a second and regroup and then figure it out. For some reason, I really really really feel the pressure, I really do."
Also on the new edition of the Pop Shop Podcast, we've got chart news how Drake pulls double-debut duty at No. 1 on the Billboard 200 albums chart on Billboard Hot 100 songs chart thanks to For All the Dogs and "First Person Shooter," featuring J. Cole, respectively. Plus, Keith details his experience being at opening night of Madonna's The Celebration Tour in London on Oct. 14, while Katie recounts what it was like attending the red carpet premiere of Taylor Swift's The Eras Tour concert film on Oct. 12 in Los Angeles.
The Billboard Pop Shop Podcast is your one-stop shop for all things pop on Billboard's weekly charts. You can always count on a lively discussion about the latest pop news, fun chart stats and stories, new music, and guest interviews with music stars and folks from the world of pop. Casual pop fans and chart junkies can hear Billboard's executive digital director, West Coast, Katie Atkinson and Billboard's managing director, charts and data operations, Keith Caulfield every week on the podcast, which can be streamed on Billboard.com or downloaded in Apple Podcasts or your favorite podcast provider. (Click here to listen to the previous edition of the show on Billboard.com.)