Judge Rejects Trump's Motion for Mistrial
The former president's request alleged that the judge overseeing his $250 million civil trial was politically biased against him. The judge said the motion was 'utterly without merit.'
The New York judge overseeing Donald Trump's $250 million civil fraud case rejected a motion for a mistrial from the former president and his co-defendants on Friday, calling the arguments provided by their defense team to throw out the case "utterly without merit."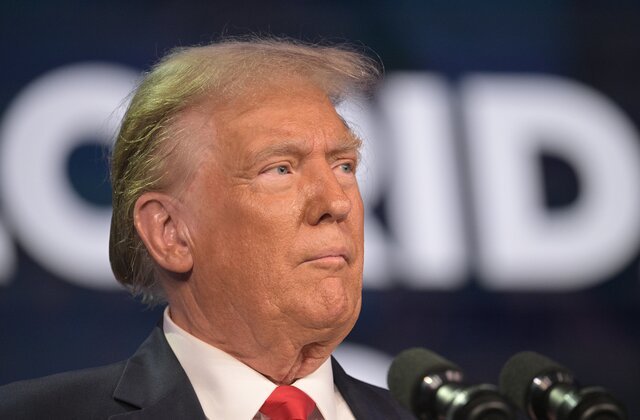 "In good conscience, I cannot sign a proposed order to show cause that is utterly without merit, and upon which subsequent briefing would therefore be futile," Judge Arthur Engoron wrote.
Earlier this week, Trump, his adult sons Donald Trump Jr. and Eric Trump, the Trump Organization and its top executives argued that the case had been undermined by political bias – specifically, that Engoron and his law clerk had "tainted the proceedings" and that the evidence was "tangible and overwhelming."
Their 30-page motion for dismissal points to news stories from NPR, The New York Times and others that Engoron shared in his high school alumni newsletter, which they claimed are disparaging of Trump, and to political contributions to Democratic groups made by his law clerk, which they called "partisan activities."
They also included photos of Engoron and his clerk seated next to each other and accused them of "co-judging" the case.
Engoron imposed a partial gag order on Trump last month after the former president posted a photo of the judge's law clerk – who also sits next to the judge – alongside Senate Majority Leader Chuck Schumer and referred to her as "Schumer's girlfriend." The order barred Trump, his defense team and the prosecution team from making public statements about his staff.
As it stands, Engoron has fined Trump twice – $5,000 and later $10,000 – for breaking the gag order.
Engoron has already found Trump and his adult sons liable for fraud and canceled the Trump Organization's business certificates, siding with New York Attorney General Letitia James, who accused the former president and his business associates of inflating the value of his net worth and properties on financial statements used to secure loans. James is seeking $250 million in compensatory damages along with a ban on the Trumps serving as officers of a business in New York and on the company from engaging in business transactions for five years.