GLENDALE, Ariz. – When Taylor Swift says she's going to bring the eras of her career to the stage, believe her.
Not since the most vigorous days of Bruce Springsteen and his legendary live concerts has a mainstream artist packed so much music into one show. On Friday night at State Farm Stadium near Phoenix, Swift kicked off The Eras Tour with a staggering 44 songs presented over a span of three hours and 15 minutes.
But more than just a roll call of her ubiquitous smash singles and fan-beloved album cuts, Swift's show is as ambitious as a Broadway musical. Numerous moving set pieces, squads of dancers and backup singers, a quick-change costume parade, confetti, pyro, synchronized blinking wristbands and a gorgeous curved video screen to blanket her always-smiling visage to those in the farthest rafters complemented her songs, while her multifaceted band perched unobtrusively on a corner of the stage.
True to its title, The Eras Tour indeed covered every facet of Swift's career, from a low-key rendition of her 2006 debut single, "Tim McGraw," to the set-closing "Karma" from her current "Midnights" album. (Only her 2010 "Speak Now" album received a single representation, the lovely "Enchanted.")
Swift commented early in the concert that she knew her fans – about 70,000 of them on this night – went through "considerable effort" to attend the show, and through her singing, dancing, storytelling, sweating and strutting both on the main stage and the lengthy catwalk, she rewarded them mightily.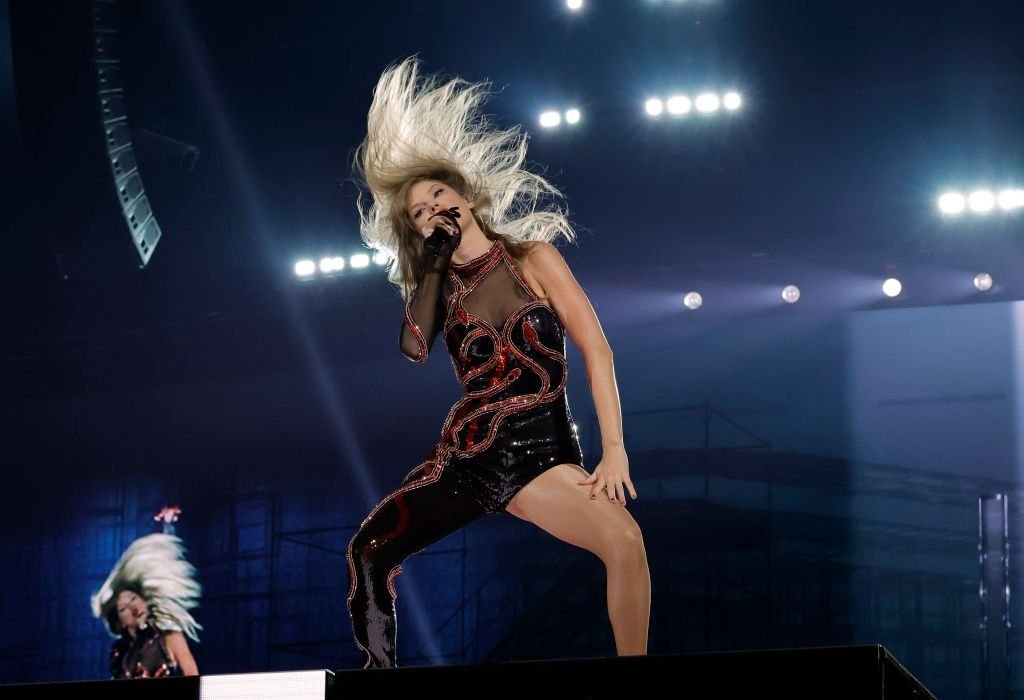 The Eras Tour spans the country for 51 more dates through August, including a second round in Glendale on Saturday. As spunky as Swift is at 33, this is a grueling show that will require enormous stamina for the next five months.
But if any artist can achieve the level of perfection she demands of herself, it's Swift.
Here are some highlights from Swift's career overview:
'Lover' Era
As Lesley Gore's 1963 statement song "You Don't Own Me" blasted through the stadium, a clock ticked the countdown to show time – as if these Swifty disciples needed their anticipation amped.
"Miss Americana & The Heartbreak Prince" served as the opening salvo as Swift, willowy in silver sequined boots and a leotard invoking the pastel color motif of her "Lover" album, rose from underneath the catwalk on a massive platform that would be a frequent set piece throughout the show.
Since Swift never toured behind her 2019 album because of the COVID-19 pandemic, this marked the live debut of "Cruel Summer" and also allowed for a sassy presentation of "The Man" with Swift donning an oversized sparkly jacket to frolic on a sleek office set and a cool remix of "You Need to Calm Down."
Her joy at returning to the stage for the first time since 2018 was palpable Swift absorbed the adulation for a few moments.
"I don't know how to address the way this is making me feel right now," she said, visibly moved.
'Fearless' Era
Swift skipped out in a short gold dress and with a matching guitar, spinning through a trio of songs from her 2008 release.
A quartet of band members trailed her in formation as she roamed the catwalk during "You Belong With Me." She ended the song with her arms slung around her four background singers before rolling into a spirited "Love Story."
'Evermore' Era
A backdrop of trees and a darkly theatrical theme introduced " 'Tis the Damn Season," another live debut.
In a rust-colored flowered frock and forest green cape, Swift sank into a cloud of dry ice for the ethereal "Willow" before edging down the catwalk and twirling as if inhabited by the spirit of Stevie Nicks.
But the highlight from the second of the pair of folk-inflected albums Swift released during the pandemic came with "Champagne Problems," which she performed sitting at a moss-covered piano. As the emotions in the song escalated, the fervent crowd shouted along with every word, sharing in her gleeful venom.
'Reputation' Era
From the first glimpse of a snake on the video screens, it was apparent that Swift would next delve into her polarizing 2017 release and she came equipped with the perfect outfit – a fierce one-legged black and red bodysuit.
These songs have always been embedded with attitude, and Swift and her crew ably snarled and tossed out sultry looks while stomping through "…Ready For It?" Beams of lights encircled Swift as she roared during the pop-metal crunch of the anything-but "Delicate" and a cool display of outfits from throughout her career – worn by her dancers – paired with the electro-goth romp, "Look What You Made Me Do."
'Red' Era
The stage was framed, appropriately, in a crimson hue as Swift cavorted through the carefree vibe of "22" and threw in some mischievous stare-downs against the thundering pulse of "I Knew You Were Trouble."
But it was the 10-minute version of "All Too Well," which Swift said she was performing as a thank-you to fans, that captivated while the crowd heartily emoted the words of the labyrinthian story song.