n 2022, Rick Ross and 57 Freddy put on a fantastic First Annual Car Show at their 235-acre estate in Fayetteville, Georgia. American rap star Rick Ross is no stranger to automobiles, and his sizable collection of more than 100 vehicles attests to his passion for all things motorized. Rick Ross and 57 Freddy organized an amazing vehicle display on the "Promise Land". A vast audience of auto fans attended the event to marveled at the fantastic display. Due to the who's who of automobiles at his inaugural Car and Bike Show, Rick Ross' Georgia mansion resembled five stores on one large lot. The premiere event was hosted by 57 Freddy, a well-known pioneer in the automobile industry. He posted everything starting at the crack of the morning, as preparations were being made and lovely luxury vehicles were arriving.
Throwback
On the First Annual Rick Ross and 57 Freddy car show 2022, there were plenty of famous people, fancy vehicles, and motorcycles. More and more individuals began to arrive as the day wore on. Along with their unusual whips, they also drive various vehicles, such as Jeeps, low-riders, monster trucks, and historic cars from the 20th century. Among the trucks driven by Rick Ross was by "Papis Garage"
Rick Ross and 57 Freddy is definitely showing the love of all things automotive unites people with a similar interest in performance and design. They believe in the power of networking and those who really want to network with other business owners should attend. The never-ending list of vehicle enthusiasts comprised some of the most influential people on the planet and local pals who attended weekend car events.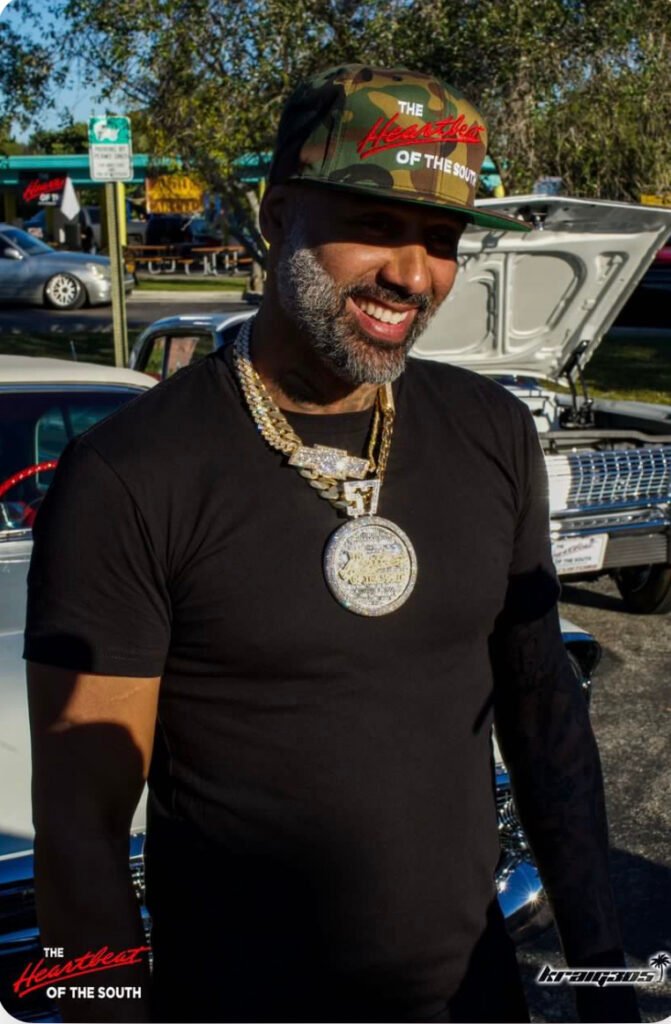 57 Freddy is a Pioneer in the car industry Known as The Heartbeat of The South. American rapper and record mogul Rick Ross, who has a fantastic collection of one-of-a-kind vintage and contemporary vehicles, is one of these car fanatics. When the gates to The Promise Land was unlocked the 235-acre property was loaded with various cars, from high-end Ferrari examples to unique six-wheel diesel trucks and thousands of spectators.
Rick Ross, known as "The Boss" in the hip-hop community, arranged his collection of vehicles into a row of more than 30 vehicles using complementary colors.

Rick Ross captured his impressive fleet on camera, including his Lamborghini Urus, Ferrari 488 Spider, Chevy Impala SS, custom Ford F-650, C8 Chevy Corvette, and many more.
Rick Ross' finest item, a spotless 1957 Chevrolet Bel Air in fire engine red that underwent a six-figure restoration and custom build procedure, sat in the middle of the home's entrance. He gifted a likewise to 57 Freddy. 57 Freddy has the white Chevy Bella 57 which the is a big. The unique Rick Ross Vehicle Show included exceptional celebrity guests, including American rapper 2Chainz, former NFL player Chad Ochocinco, Misty Blanco The Blaquanese Rockstar and car lovers. Throughout the day, attendees took in music from the main stage, food, entertainment, and the chance to watch some of the best celebrity automobiles and motorcycles in action at a famous spot.
It should be no surprise that Rick Ross's "The Boss" and 57 Freddy's first car show was a smashing success and has since become one of the year's hottest events. Rick Ross and 57 Freddy's First Annual Car Show 2022: The giant automotive spectacle!
The Rick Ross Car Show 2022 included some of the rarest automobiles in his collection, ranging from low-end luxury and sports cars to donk cars and antique exotics. While the rapper's preferred 1957 Chevrolet Bel Air, which had been expertly refurbished by 57 Freddy, took center stage, the display also featured Maybachs, Lamborghinis, Corvettes, and Ferraris.
Rick Ross and 57 Freddy 1st Car Show's finest automobiles:
The Corvette Bel Air
He substantially customized this 1957 Chevrolet Bel Air to his taste. It has vast wheels, a spectacular red paint job, and lowered suspension. Ross has several old cars, but this one is at the top of the list.
Convertible Cadillac DeVille:
This DeVille from 1968 has enormous 28-inch gold wheels and is painted a deep burgundy. Ross explained in the annual Rick Ross and 57 Freddy car show that he chose this hue to go with the car's gold steering wheel.

Custom Impala 1971 Chevrolet.
A Chevrolet Impala: Specifically constructed in Gucci is yet another Chevrolet in the never-ending list of Rick Ross's classics. The car's roof features a print of the Gucci logo, and several gold touches are all over the vehicle. Additionally, it has enormous wheels that were created in the Gucci style.
Ferrari 488 Spider:

The Rick Ross garage also served as the home of the red prancing horse from Maranello. It can accelerate to incredible speeds in seconds because of its mid-engine V8 engine. Unquestionably, this car mixes contemporary performance with old Italian luxury.
Verdict

The first Rick Ross Car Show was an enormous success based on the large turnout. Take advantage of the occasion if you are a big admirer of the Boss. The Second Annual 57 Freddy and Rick Ross Car Show is now uploading. Also, we urge you to attend the second annual auto event if you admire the magnificent sets of wheels Ross has. Follow the dates and sales on the website www.rickrosscarshow.com to ensure you get all the tickets, which will sell out rapidly. You should make the most of this auto exhibition!

» For publicity inquiries only about The Rick Ross & 57 Freddy Car Show,
Please contact: The Misty TV Firm Corporation.
‣Contact Misty Blanco via email: themistytvfirm@yahoo.com
‣Misty Blanco Instagram IG: @mysterious_mistyblanco
‣Instagram IG: @themistytv
‣Website: www.rickrosscarshow.com
‣Rick Ross Instagram IG: @richforever
‣57 Freddy Instagram IG: @57freddy